Growing a vegetable or flower garden this year? How's this for a goal? Use veggies and edible flowers for a stunning & delicious treat! Get the recipe below. Share photos with us if you made this!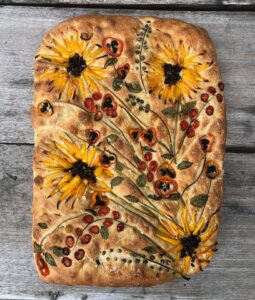 Focaccia Bread
Ingredients:
4 c flour
1 1/2 t salt
1 1/2 t active yeast
5 T olive oil
1 1/2 c lukewarm water
Olive oil to spread on a baking sheet and on top of the bread.
In the bowl of a stand mixer, combine flour, salt, and yeast. Add olive oil and water and combine with a paddle attachment until a sticky ball forms. Change to the dough hook and mix on medium for 5 minutes. The dough should clear the bottom and the sides of the mixing bowl. If it doesn't, add more flour 1 T at a time until it does.
Transfer the dough to a floured work surface. Pat the dough into a rectangle. Grab each end and pull until it doubles in size. Fold it letter style so that it is back to a rectangle. Spritz the top with olive oil, cover with plastic wrap and let it rest for 15 minutes. Repeat the step above two more times. The last time let it rest 30 minutes. It will rise slightly, but not double in size.
Line a baking sheet in parchment paper and drizzle on 1/4 c olive oil. With your fingers or a pastry brush, cover the entire surface with oil. Transfer the dough onto the sheet and pour another 1/4 cup of oil over it.
Using your fingertips, dimple the dough, gently spreading it toward the edges of the pan, until the dough fills your entire baking sheet. Cover with plastic wrap and refrigerate overnight.
The next morning, remove dough from the refrigerator about 4 hours before you need it. Brush on more olive oil until the top is covered. Let it come to room temperature and then proof for about an hour or until doubled in size.
Preheat oven to 500 degrees.
Remove plastic wrap and decorate as desired. I used chives, flat-leaf parsley, cherry tomatoes sliced in half, black olives sliced in half, red onion sliced thinly, roasted garlic, and red pepper. Brush lightly with olive oil again.
Turn oven down to 450 degrees and place on a middle shelf. (I put a piece of foil on the shelf below just in case olive oil dripped – it didn't. )
Bake 10 minutes, then rotate the pan and bake for another 8 to 10 minutes until lightly browned. Remove from oven and let sit in the pan for 5 minutes. Move to a wire baking rack to cool. Serve warm or cold with additional olive oil, or herbed olive oil for dipping.
* Herbed olive oil for dipping:
1 c olive oil
1 t kosher salt
1/4 t black pepper
4 cloves of garlic minced
1 t dried oregano
1 t dried basil
Combine in a small saucepan and heat until garlic is lightly golden. Remove from heat and let cool.